BOWSER IDENTIFIED AS KEY DEALER IN WESTERN PA

To Our Valued Customers:
On behalf of the entire Power of Bowser team, I am pleased to inform you that we have been identified by
General Motors
as one of its key dealers in all of
Western Pennsylvania
for the Buick, GMC Truck and Cadillac brands. 
What this means is that we will be actively participating in the exciting reinvention of a New GM into a leaner, greener, stronger & smarter company - competing in this challenging market with greater efficiencies, better fuel savings and new technologies. 
There's no denying that in recent days the
automobile industry
in this country has undergone a dramatic transition, but we believe this transition will ultimately present all of us with exciting new opportunities and products. 
I'd like to thank you for your loyalty and support, and I want to assure you that we at the Power of Bowser will continue to move forward as we have for more than 25 years - with a commitment to value & service.  
Sincerely,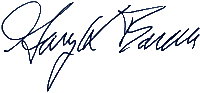 Gary K Bowser Sr
President / Owner